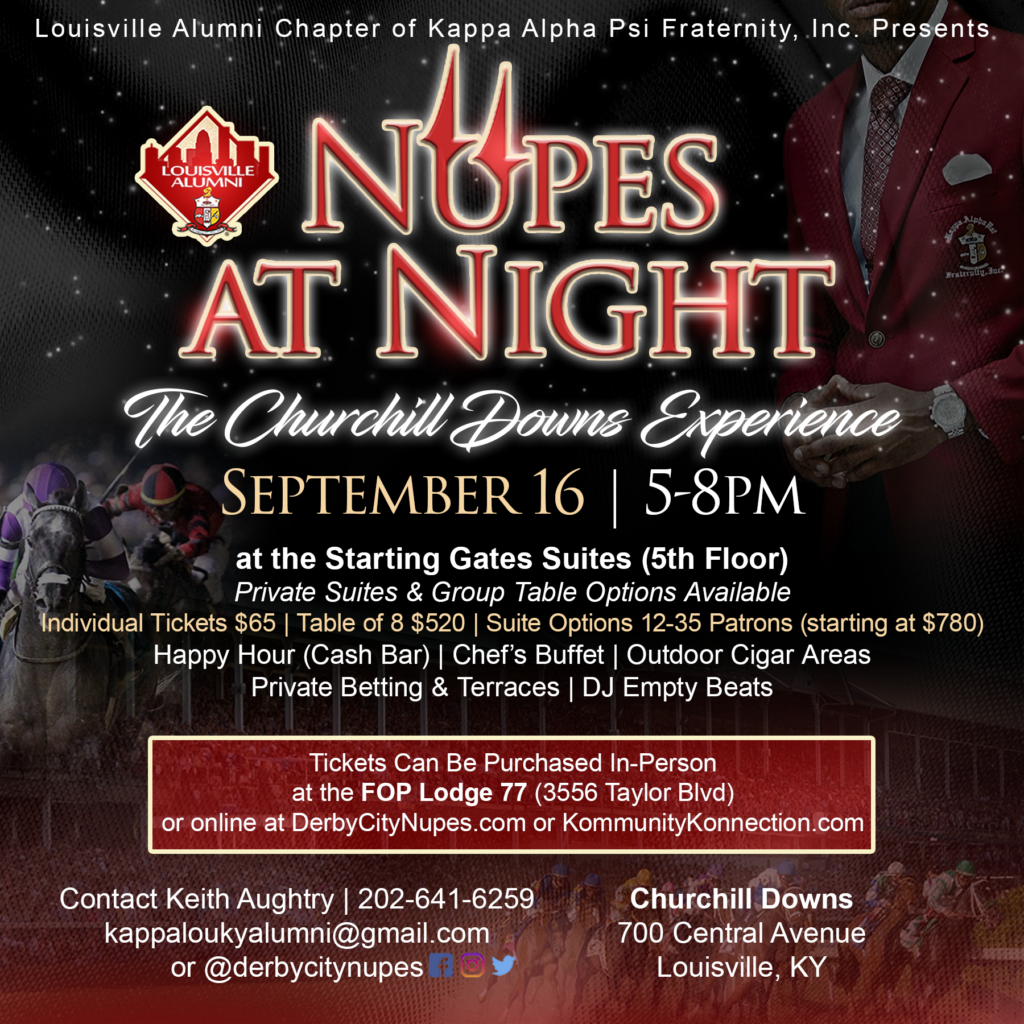 THIS IS A SOLD OUT EVENT!
Join us Thursday, September 16th from 5-8pm for Nupes at Night: The Churchill Downs Experience!
Private Suites/ Group Table Options are available (1st come, 1st serve)
Happy Hour (Cash Bar)
Private Terraces & Betting Areas
Chef's Buffett included!
Cigar areas will be available
Featuring DJ Empty Beats!
---
TICKETS (Online or In Advance)
Pay in Person (FOP Lodge 77 (3556 Taylor Blvd., Louisville, KY 40215)
Thursday, August 26th & Friday, August 27th (4:30pm – 7pm)
Thursday, September 2nd & Friday, September 3rd (4:30pm – 7pm)
Single Tickets: $65.00  + PayPal fees
Suite/ Group Table Options
GROUP TABLE $520 – Minimum of 8 Guests to Secure
NUPE SUITE $780 – Minimum of 12 Guests to Secure (Only 8 Available)
EXECUTIVE SUITE $1625 – Minimum of 25 Guests to Secure
DIAMOND SUITE $2275 – Minimum of 35 Guests to Secure
(PayPal fees are added to all purchases for online orders.)
To Secure A Table/ Suite Contact Dee Johnson 502-417-1345 or Keith Aughtry  202-641-6259
CONTACT INFORMATION
Contact: Dee Johnson 502-417-1345 or Keith Aughtry  202-641-6259
or kappaloukyalumni@gmail.com
www.kommunitykonnection.com
** A portion of the proceeds will benefit our Kappa Guide Right Programs **